Commuter Option: Prosopon Iconography Workshop Retreat
With Dmitri Andreyev
April 3 - 8, 2020
The Priory Spirituality Center is excited to expand its offerings in iconography by hosting a Prosopon Iconography Workshop Retreat for both beginning and intermediate students. Students will be invited to paint a simple icon in the Russian-Byzantine tradition following step-by-step technical instructions. Each of the six days of this intensive icon workshop will begin with a prayer experience and presentation of the theology which is the foundation of this unique art and prayer form. The "writing" (painting) of icons is a visual, artistic prayer practice involving Scripture, tradition, line, light and color.
While taught from an Orthodox perspective, the workshop is open to all people.
For more information about the workshop retreat, please see this brochure.
Please note that a $200 deposit is required upon registration, and the remaining balance is due by February 1, 2020. Registration closes on December 15, 2019 or once we have reached our capacity.
*This is the registration for the commuter option. There is a different registration if you would like to be a lodging guest at the Spirituality Center and receive room and board during the workshop.
Facilitator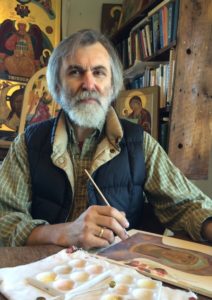 Dmitri Andreyev
Dmitri Andreyev was born in St. Petersburg, Russia, and came to the United States in 1991 to study traditional iconography under his father, Vladislav Andrejev, master iconographer and founder of the Prosopon School of Iconology. While living in New York City, Dmitri established the Prosopon School New York City Studio.  As an instructor of the school, he regularly leads iconography workshops around the country.
Learn more about Dmitri Andreyev