God, the Artist; We, the Co-Creators
With Lucy Wynkoop, OSB; Renata and Walter Siegl
July 18, 2020
God is the artist of our souls; this retreat will stimulate our creative souls. We will focus on our Potter God using clay materials. After meeting at the Priory Spirituality Center, we will drive together to the Siegl's clay studio in Shelton where Walter and Renata will aid us with our creations. The pieces will be glazed by the Siegl's, and will be available for pick at the Priory Spirituality Center after they are finished. No prior experience is necessary.
Facilitator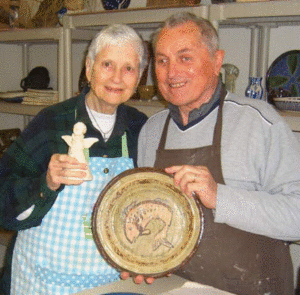 Lucy Wynkoop, OSB; Renata and Walter Siegl
Lucy Wynkoop, OSB is a retreat and spiritual director, and has received formal art education. Renata Siegl pursues her hobbies of ceramics, watercolors and paper cutting (Scherenschnitte) after having retired from teaching kindergarten and having raised four children with her husband Walter. She studied in Vienna, Austria and San Antonio College in Walnut, California. Walter Siegl is a retired architect and teacher who enjoys the endless possibilities of creating ceramics in the serene setting of his and Renata's home studio.
Learn more about Lucy Wynkoop, OSB; Renata and Walter Siegl