Listening with the Spirit 2017-2019
With Sister Lucy Wynkoop and Mary Pandiani
October 4, 2017 - May 8, 2019
The Priory Spirituality Center is opening registrations for Listening with the Spirit 2019-2021, a spiritual direction formation program.
Kindly review the materials in the "Overview of Listening with the Spirit and call Prerequisites for LWS" pdf file below. Dr. Mary Pandiani and Sister Lucy Wynkoop will facilitate the spiritual direction formation program. If you have further questions, kindly contact Sister Lucy Wynkoop at 360-438-2595 or 
lucywynkoop@gmail.com
.  If you would like an interview, kindly let Sister Lucy Wynkoop know and she will send you the materials and interview process.  Interviews will take place between February and May, 2019.
"This 2 year program is quite intensive. In some ways too much is covered, but that is because there is an assumption that people who want to work as Spiritual Directors have already studied or lived and experienced the rigorous paths of their own spiritual lives and are now being refined in how to Listen to the Spirit with others. A level of spiritual maturity is required before entering into the program. And then, the program is a kind of Refiner's Fire that burns away the dross. In Listening with Spirit those who would stand in as instruments of Spirit (as directors) are acquainted with the challenges of different aspects of spiritual life as it is lived in ordinary life as well as during periods of crisis, in order to hold people in love, warmth of spirit and holiness. What a gift!" –Patricia Kay
"The Spiritual Direction formation program, Listening with the Spirit, at Saint Placid Priory is a wonderful training for pastors; we really are doing spiritual direction in all kinds of ways in every pastoral encounter! We get through seminary and CPE and jump right in, and we still, always, will have more to learn about helping people recognize the Spirit at work in their lives (and in our own). The expert leaders and supportive cohort bring out so much in us, give us so many tools for listening and guiding, and the supervision aspect takes us deeper and answers so many questions. I am a better priest for the gifts of the Listening with the Spirit program at the Priory." –The Rev. Canon Nancy Ross
Facilitator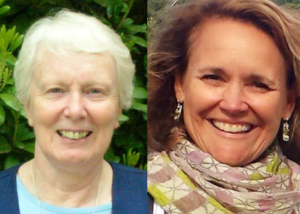 Sister Lucy Wynkoop and Mary Pandiani
Sister Lucy Wynkoop, OSB, prepared for being a spiritual director and supervisor at Mercy Center. Previously, she received two MAs with concentrations in Scripture and Monastic Studies. As a Benedictine she has been shaped and formed in prayer and community. She strives to help others become a community of listening, loving, receptive, contemplative participants as they do their inner formation to become spiritual directors. Since 1992 she has provided spirituality formation programs and has invited others to do so at The Priory Spirituality Center. Mary Pandiani, D.Min., MA, C.S.D. is a spiritual director, personal/professional development coach, and an instructor for…
Learn more about Sister Lucy Wynkoop and Mary Pandiani