Cinema Divina Retreat
With Marilyn Freeman
November 2 - 4, 2018
Open your mystical heart in communion with others in this restorative weekend-long retreat of rest, film screenings and personal writing. Re-imagining the ancient lectio divina prayer practice both for film watching and creative writing, Marilyn Freeman will engage participants in meditative screenings of short films made for contemplation and in generative personal writing.
Bring preferred writing devices/materials
Facilitator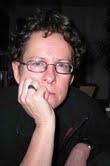 Marilyn Freeman
Marilyn Freeman is a writer, media artist, teacher and spiritual director. She is known for her video essays, public service films and CinemaDivina—a growing series of short contemplative films shown in spirituality centers and galleries, on literary sites and at festivals. Visit marilynfreeman.com.
Learn more about Marilyn Freeman