Maintaining Our Spiritual Equilibrium by Sharing Our Wisdom
With Janice Lawry
September 10 - October 22, 2019
In these times of rapid change and shifting cultural norms, what can we rely on to hold us steady? We'll share our struggles and successes as well as draw upon the wisdom of poets, artists, and spiritual leaders to discover practices that help us restore our balance and keep faithful to our priorities.
Throughout the workshop, we'll learn
from one another as we explore various options for how to remain spiritually grounded and attuned to the values we hold most dear. You'll be invited to engage in written and experiential exercises both in and out of class times and then return to participate in lively discussions of what opened you to the holy all around you.
1. What makes something a spiritual practice? (Sept. 210, 2019)
We'll examine various spiritual practices and see what they ask of us and what they offer to us. Then we'll expand beyond our usual options to consider how to bring the spirit into more of what we do everyday.
2. Making room for spirit literally and figuratively. (Sept. 24, 2019)
We'll explore what kinds of environ-ments encourage our spirits to emerge, express themselves, and rejoice? Will also identify where are spirits tend to retreat and become invisible. We'll also look at how our spirits can be expressed through our creative pursuits and acts of service?
3. Meeting spiritual challenges and remaining true to our values.
(Oct. 8, 2019)
When difficulties such as loss, illness, and drastic change in all that was once familiar deplete our spiritual resilience, how do we seek renewal and find wholeness again? Where do we go to heal and what can we learn from others who have faced similar challenges?
4. Committing to What Sustains Our Spirits. (Oct. 22, 2019)
Having discussed our explorations and our discoveries over the past two months, we will share our wisdom as to what we've learned one last time. As a way of grounding our intentions as we move forward, we'll write statements declaring what we seek and the spiritual practices we'll commit to following in our quest.
Although there are no specifically assigned readings outside of meeting times, participants may find the following books illustrative or beneficial:
The Endless Practice: Becoming Who You Were Born to Be
by Mark Nepo
Devotions: The Selected Poems of Mary Oliver
by Mary Oliver
Match: Bringing Heart and Will into Alignment 90 Days of Practice
by Gunilla Norris
Simple Ways Towards the Sacred
by Gunilla Norris
Being Home: Discovering the Spiritual in the Everyday
by Gullia Norris
The Cure for Sorrow: A Book of Blessings for Times of Grief
by Jan Richardson
Facilitator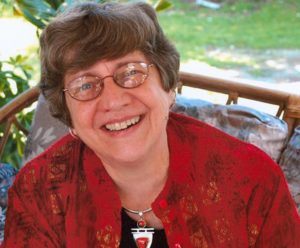 Janice Lawry
Janice Lawry is a developmental psychologist whose workshops use writing and other means of creative expression as tools for personal exploration and transformation. Her work brings to light the parallels in our psychological, creative, and spiritual growth throughout our lives.
Learn more about Janice Lawry